Microsoft Power BI lets you create and design sophisticated dashboards and reports for practically everything. Here is how to publish your Power BI dashboard or Reports to one or many Digital Signage Screens with DatabeatOMNI.

NB: The DatabeatOMNI Power BI widget has recently been updated with new UI and new features. Article update in progress.
Introducing DatabeatOMNI Power BI widget
No wonder why Microsoft Power BI is growing in popularity. It is a powerful, flexible and easy to use Business Intelligence tool with which you can create dashboards and reports to present and share your organisation or team KPIs. With Power BI sharing is based on Microsoft Office Groups (= workspaces in PowerBI) so that only authenticated users get appropriate access.
With the DatabeatOMNI publishing platform, you can publish your dashboards or reports to large screens so that your team can stay updated as well, whether your team is located at the same office or anywhere else in the world, even at their homeoffice. Here is how to do it.
What do I need to get started with the DatabeatOMNI Power BI widget?
If you haven't already, you will need to sign up with your Office 365 account It's free, and it requires no credit card detail. More info on how to get started with DatabeatOMNI check here.
Log in to the DatabeatOMNI publishing platform using the Office 365 Login option. You will have to use your Office 365 account to log in to see reports or dashboards available to you.
Enable OMNIbi role on your user.
Enable Power BI Read access in the Office 365 Permissions panel on the Locations tab.
To display dashboards or reports on your digital signage screens, you need Databeat OMNIplay supported hardware (ie a supported Samsung LFD screen).
A demo or paid version of DatabeatOMNIPro

license. You can easily create a demo player in DatabeatOMNI.

You will need some basic understanding of DatabeatOMNI (Locations, Media, Channels and Widgets to understand how to set up your first system.
In DatabeatOMNI locate the "Screen Designer" on the top of the page. In the image below you, you have the "Screen Designer" icon to the right. In Screen Designer locate the Power BI widget.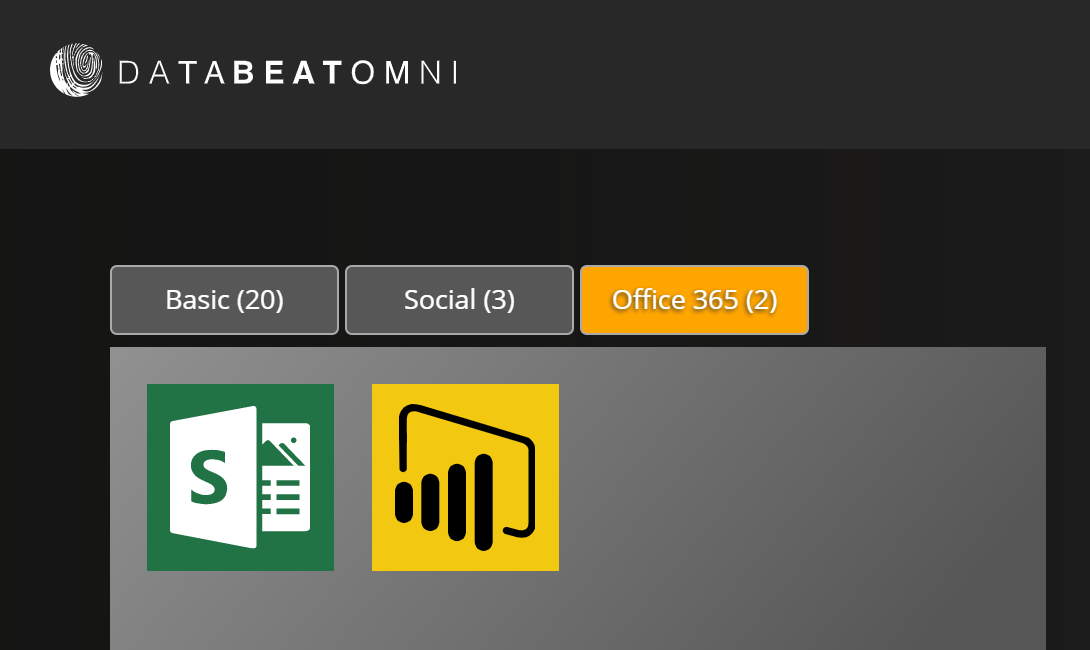 Click and drag it onto the monitor window and it will open up a list of Office 365 Groups (Power BI Workspaces), where you can click and select or search for you specific Workgroup.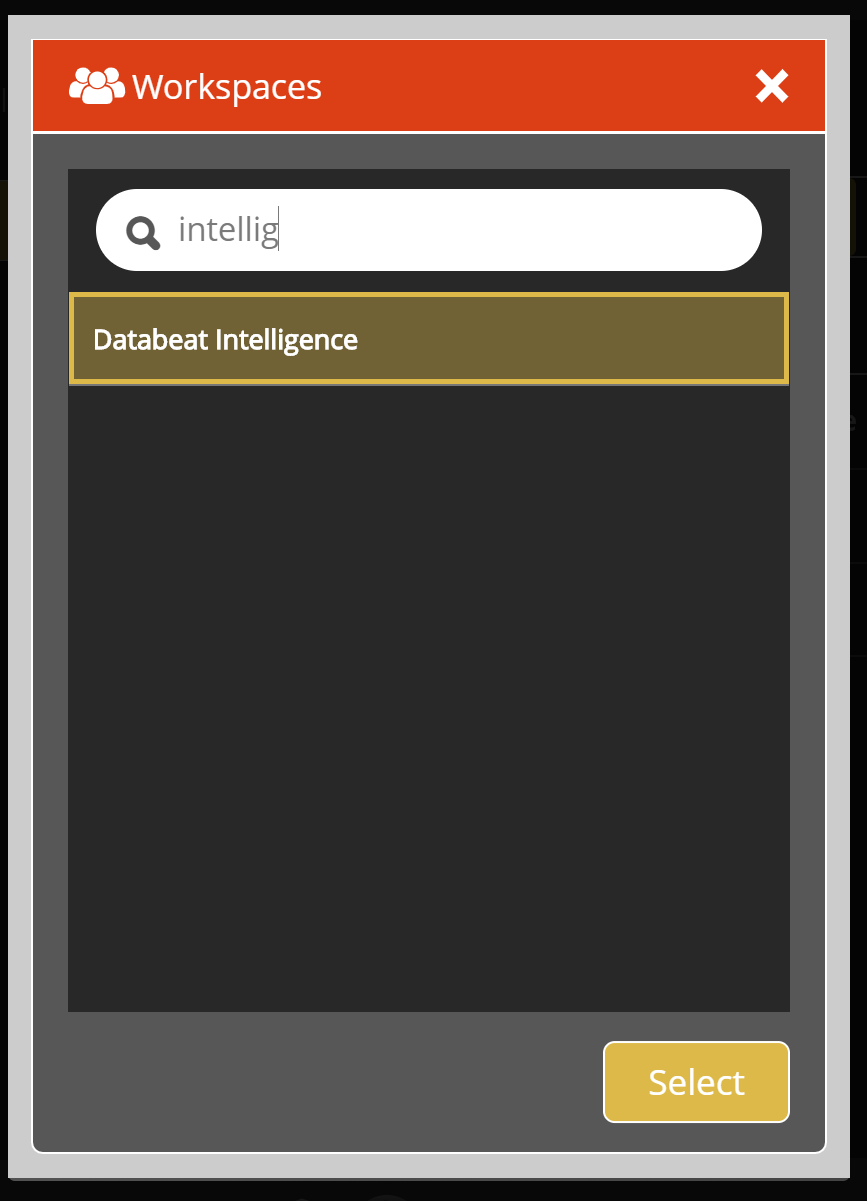 Select Reports or Dashboards to see what is available (has been shared). Select whether to publish all or select one or more reports/dashboards. If you want to publish more than one - you may set/change time to display to allow for more time on complicated or important information.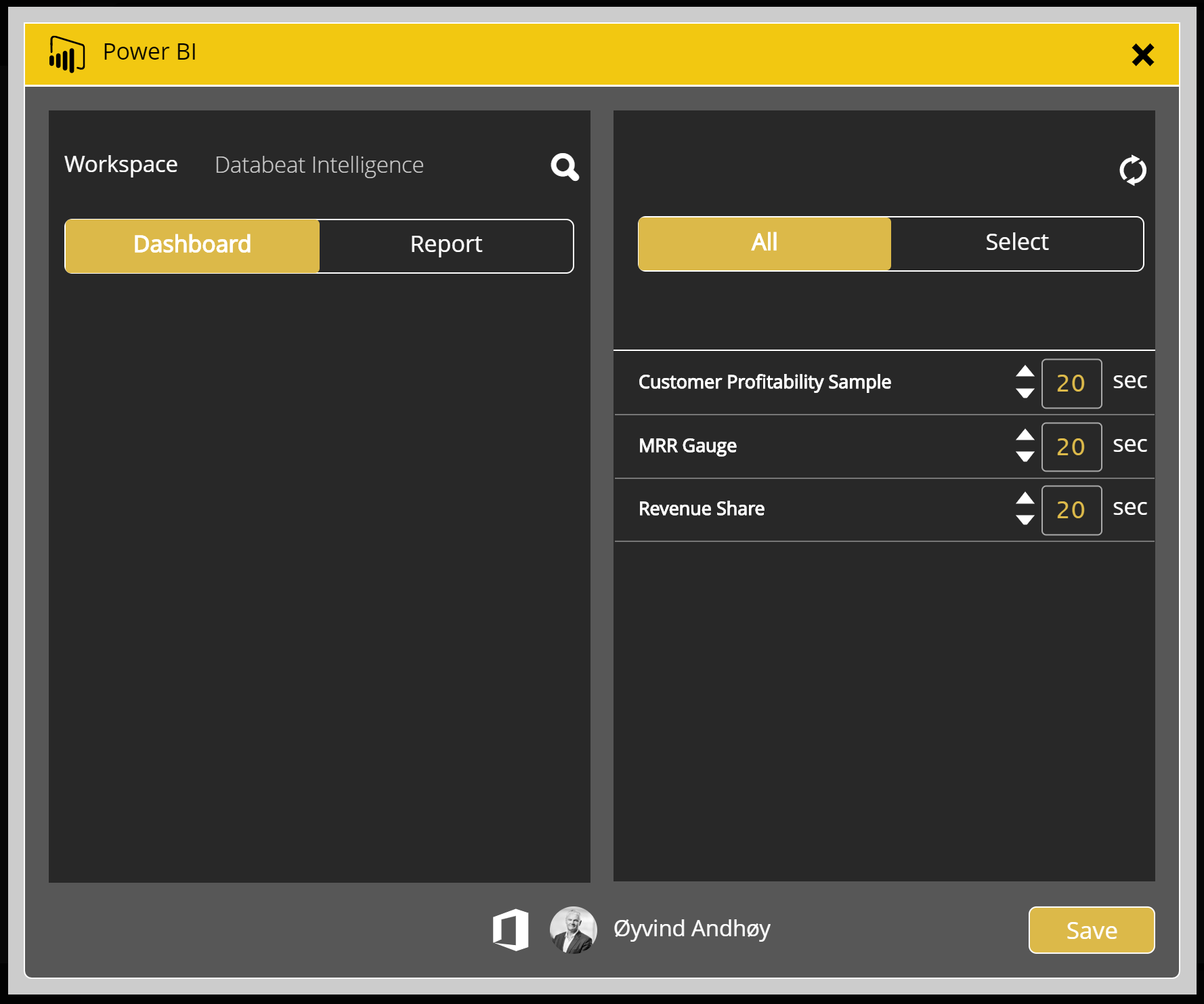 Click on Save exit the Power BI widget configurator. You may add more Power BI widgets or select other widgets to be displayed with it (news, weather, internal channels etc).
You may create demo licenses from within DatabeatOMNI to see how your dashboard/reports look on screens.
OMNIplay hardware
OMNIplay communicates directly with the PowerBI servers and uses the player's internal browser to display reports and dashboards. Databeat is not responsible for any browser compatibility issues.
We are aware that Power BI Dashboards use web technologies that are may not be supported on older hardware operating systems (such as Samsung SSSP2-4, WebOS2-3) or Android < 7.x.
We recommend Samsung SSSP6, LG WebOS4 or Android 7.x or higher.
After you have chosen the report or dashboard you want to share to one or more screens, it will appear on the preview screen in a small placeholder box, you adjust the size of the box of your choosing, in this example, we have dragged it end-to-end.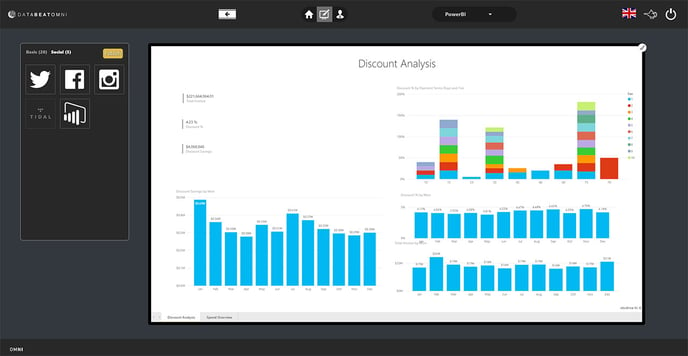 If you want to change the report to another one, click on the "settings icon" and change to another report or dashboard of your choosing.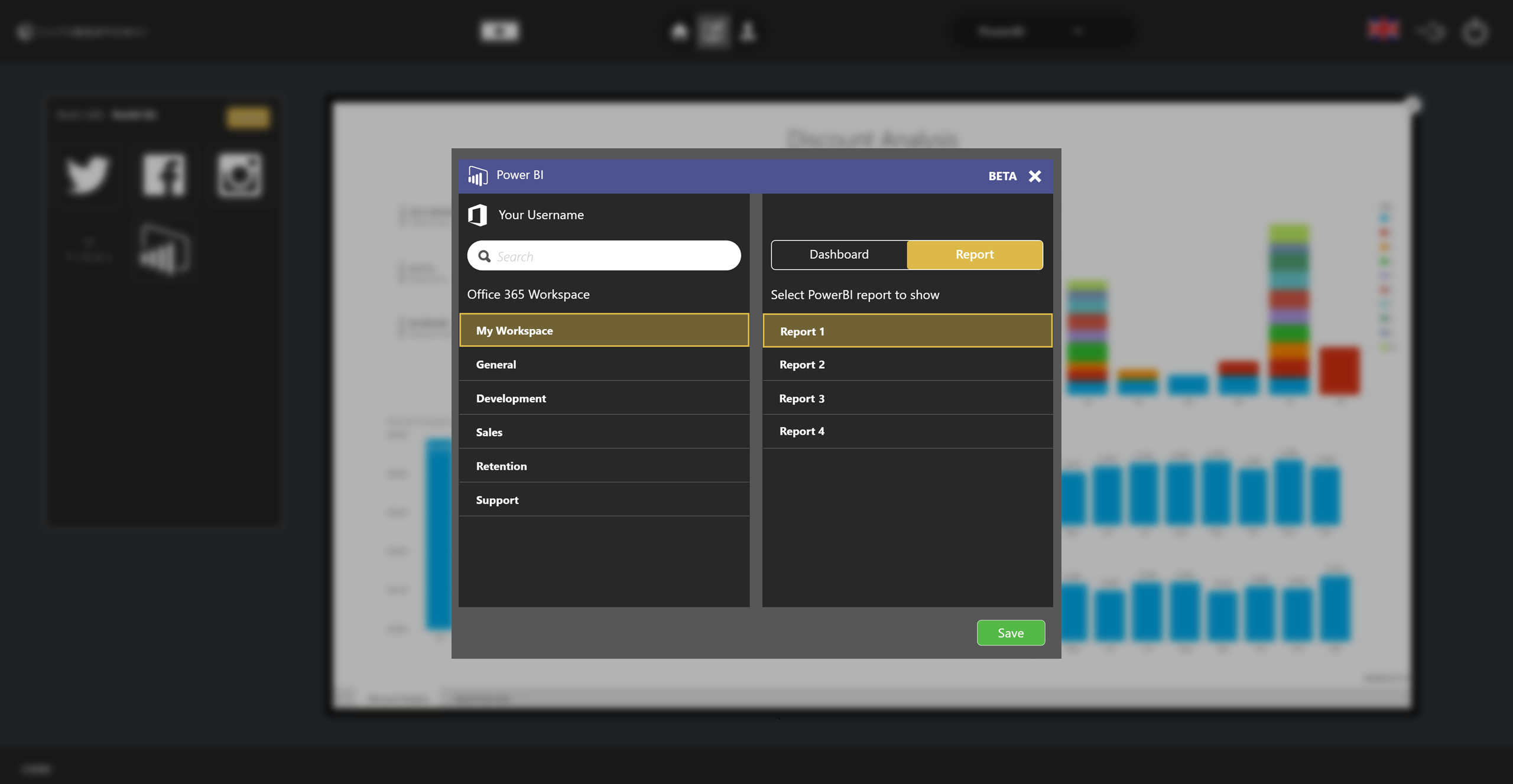 You have now been through the steps of setting up and sharing your first dashboard/report via the DatabeatOMNI PowerBI widget.
If you should have any questions on getting started with the DatabeatOMNI PowerBI widget, send us an email to support@databeat.net and our support team will gladly be of assistance.Microsoft Power Bi