This article describes new DATABEATomnicast automatic encoding and streaming features. Why, where and how to be used.
Background
DatabeatOMNI is a simple (to use) yet very flexible Screen Publishing Platform built for several purposes, Digital Signage is the most typical use today. As part of our 2022 OMNIcast initiative, we introduce new built-in automatic Encoding and Streaming capabilities based on Microsoft Azure Media Services v3. With it, DatabeatOMNI can be an even more comprehensive publishing platform for all screens big and small. LED, Large Format Displays, Smart TVs, Tablets and Smartphones, showing unprotected and protected content, downloaded or streamed.
Also for QA only.
In its simplest form, the automatic encoding process can be used for ensuring that uploaded videos are converted to a format well suited for various hardware. Ie some SoC screens do not support Apple .mov files and old Microsoft .wmv files. DATABEATomnicast encoding will automatically harmonize the video formats.
NB! The Encoding and Streaming option is only available for Pro users.
How to enable OMNIcast Encoding and Streaming
In the DatabeatOMNI UI, the top left pane "Media" shows a list of your channel(s). In Channel Propertied you will find this pane. Ensure to click on to enable "OMNIcast".
It is Green when enabled.

You will see four different encoding options as buttons. Each button will explain the encoding options.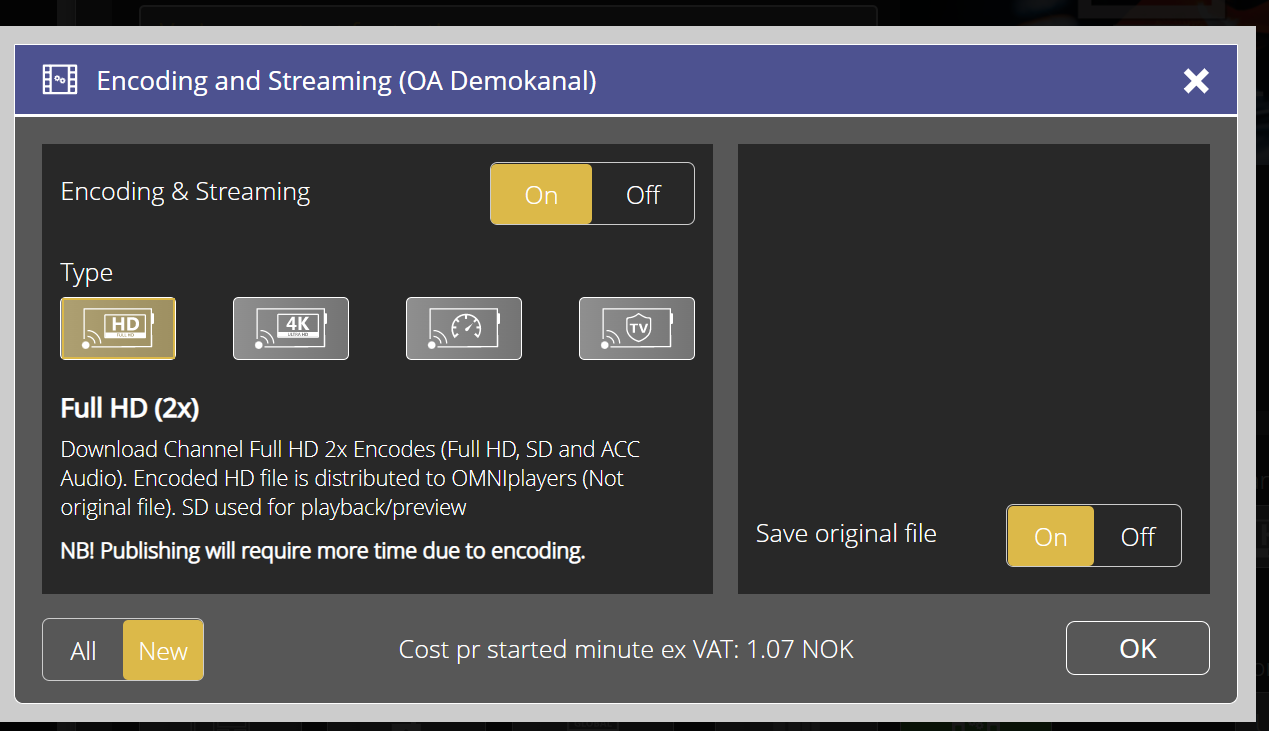 Full HD (2x) (Default). It will create one full HD video file and one SD file. The Full HD file will be distributed to players, and the SD file will be used to stream the video preview in DatabeatOMNI.
Note: The following options are meant for the coming DATABEATomnicast apps for Windows, Apple and Android devices later in 2022:
4K (3x). Same as above, but add one 4K encoding, a total of 3 files The idea is to distribute 4K content to 4K players and HD to others. This feature is complex and not yet implemented. Currently, it will encode, but the HD file will be used for all players (not 4K).
HD Multi (6X). Creates 6 different files with different bitrates and are to be used for dynamic/responsive streaming. The client will dynamically play content as per ie bandwidth capacities.
HD Multi 6X (DRM). Same as above, but with copy protection (DRM). MultiDRM will be applied by Apple Fairplay, Microsoft Playready and Google Widewide
Be aware, that this requires hardware and player support for the same.
Do not use this option for Standard Signage, it will not work well.
More info on Adaptive/Dynamic Streaming can be found here
Option: Save Orginal
The option to save or not save the original decides whether the system keeps the original uploaded file, or deletes it after encoding has been done (to conserve space and increase security for DRM encoding, after all the original file is not encoded).
Cost
The encoding option requires dedicated services/servers, it is quite CPU and space intense. Using it will carry a cost. Higher quality will cost more, and more services and files will cost more, the same applies to streaming the content We haven't decided quite yet how to implement it, but we will return to that later. In the meantime, the service will not be invoiced.