To enable the Power BI widget in your Screen Designer you need to link Power BI with your DatabeatOMNI account. Here is how to do it!
Prerequisite:
DatabeatOMNI account and a user with the Super User role.
Additionally, you must have the ability to approve Microsoft 365 enterprise application permissions as a global administrator or in a similar role.
If you do not have the required access your organization might allow you to request the permission. If not you will have to contact your company's Microsoft 365 Administrator.
Step-by-step guide:
1. Log into DatabeatOMNI with your Microsoft 365 account.
If you are not allowed to do this then ask your IT department to allow login via third party applications for secure authentication. Read more about O365 secure login here.
2. Ensure you have OMNIplay Pro in the bottom left corner.
The Power BI widget is only available in Screen Designer which is available to OMNIplay Pro accounts and Demo accounts.
Check out this article if you are on a Demo account.
If your account is a Demo account you need to select to view DatabeatOMNI as a OMNIplay Pro user. You can select Pro in the bottom left corner and then select to view as the advanced interface that gives access to more advanced features like the Power BI widget.

If you have purchased a lesser license than Pro you need to upgrade. Please contact your reseller or go to OMNIstore to order OMNIplay Pro licenses.
3. Open Microsoft 365 Integration settings
a) Go to the Locations tab.

You will now see the Info tab on the right side, showing info and settings for your Main Location.
b) Select the Calendar icon located on the bottom to edit integration settings.

c) Select the Microsoft 365 icon to edit Microsoft 365 Integration Permissions

d) You will now see the Microsoft 365 Permissions panel and can edit the level of integration.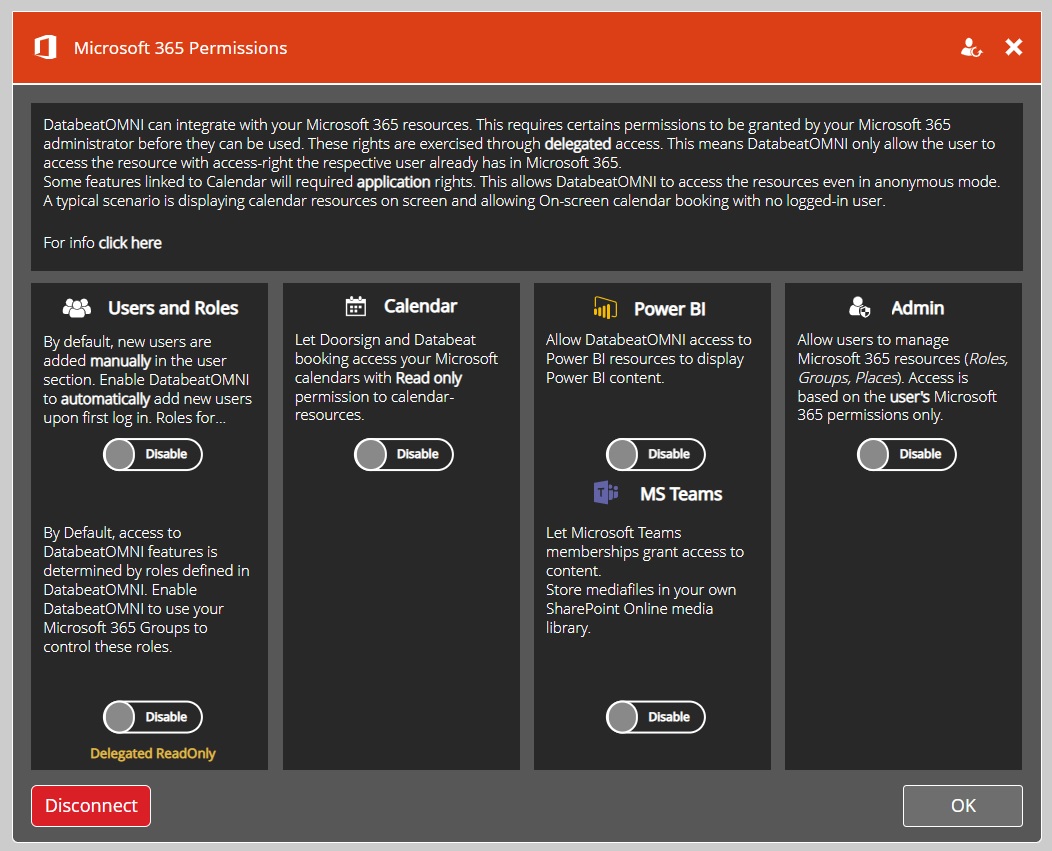 4. Enable Power BI
Change Power BI setting to [Enable].
This will enable the Power BI widget in Screen Designer.

You can then close the current Microsoft 365 Permissions panel, select OK and go to the Media tab.


5. Add your Power BI widget in Screen Designer
In Screen Designer, you will now find a new tab called Office 365.
Drag and Drop the Power BI widget icon to your screen on the right-hand side and allow DatabeatOMNI to view your Power BI reports and Dashboards.


You are done!
If you need more information we suggest you check out:
How do I show Power BI Dashboards or Reports on digital signage screens with DatabeatOMNI?