Databeat OMNIcast is an app that you can download on your Android mobile phone or tablet. You can use OMNIcast to play content and information from channels you have created in DatabeatOMNI.
To get started with OMNIcast for Android, you need:
An Android phone or tablet that has installed the OMNIcast app from Google Play
A DatabeatOMNI account where you have published and scheduled content
A license key for OMNIcast, because the app needs a license key to know what to show
For what can you use OMNIcast?
OMNIcast can be compared to a screensaver and can, therefore, be used for many purposes. For example, OMNIcast can be used to share information internally within a company or in stores that display content about a product for sale. When OMNIcast is set to play, the user or administrator can schedule or override for when to play.
How does OMNIcast for Android work?
The OMNIcast app is connected to your DatabeatOMNI account and can download and view the content published in your DatabeatOMNI channels.

The first time you launch the OMNIcast app, it asks for a license key, which you can create and find in DatabeatOMNI under the OMNIplayers tab. Once the license key is registered, the device retrieves the settings and channels made available to view on the Android device.

OMNIcast can play content in both landscape and portrait. The resolution and direction of the Android device determine how the content is displayed. The OMNIcast app needs network connectivity to link up with DatabeatOMNI. We recommend avoiding large media files, as downloading via mobile data can incur extraordinary costs.


Here is an image showing channels and content from DatabeatOMNI at the top. Below you can see the OMNIcast app on a mobile phone, where we can choose which channel to show and what it can look like.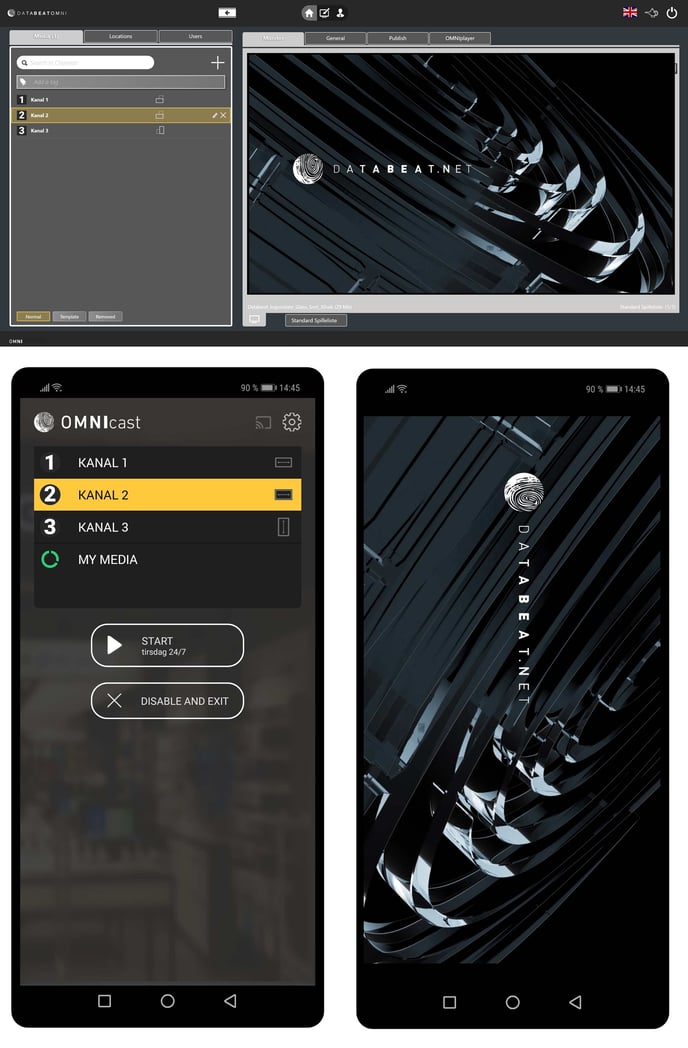 This is how the OMNIcast app looks like: