How do I increase the storage capacity on a Databeat OMNIplay 3 Media Player?
Databeat OMNIplay3 is an external Android-based media player with 16Gb built-in storage. Some 9Gb is available for media content. You may increase it with an external micro SD card (max 32Gb).
NB ! Use a micro SD card up to 32 Gb ONLY !!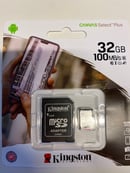 A 32 Gb Micro SIM from Kingston.
Here's what to do:
Verify that the Micro SD card is max 32 Gb
Unplug the power cable to the Databeat OMNIplay 3 device
Gently insert the Micros SD card at the right side of the OP3 (See below) into the Socket until it clicks.
NB ! Make sure that the SIM card contacts are facing down.
It can be ejected by gently pressing it again. With a click, it will be released and can be removed.
Insert the Power cable to the Databeat OMNIplay 3 device to start it.
Please note that the card can only be inserted in one direction.