DatabeatOMNI allow you to publish content directly from Microsoft Powerpoint to DatabeatOMNI. This article describes how to install the required DatabeatOMNI powerpoint plugin using the new Microsoft MSI package.

NB ! This process replaces previous processes.
As of January 23rd 2020, this process replaces the old install processes.
Limitations
Will only work on:
Microsoft Windows 10 PCs (Not previous versions, and not on MAC).
Powerpoint version 2010 and higher.
Download install file
The DatabeatOMNI Powerpoint Plugin Install-Package can be found here
it is a standard Microsoft .MSI file (less than 4Mb)
Download this to your local computer.
Click on the file to start the setup process.
Setup Process
The process will run through a few steps (we suggest you keep the suggested selections and click [Next >] unless you are an experienced user and are confident what to do.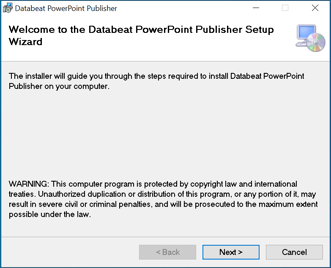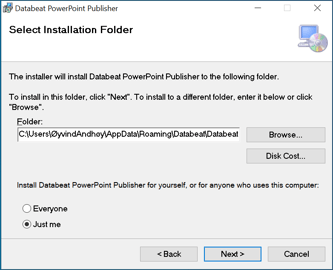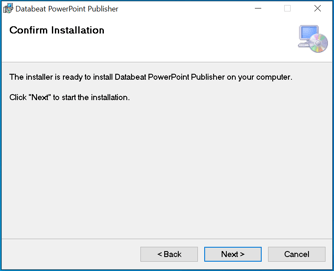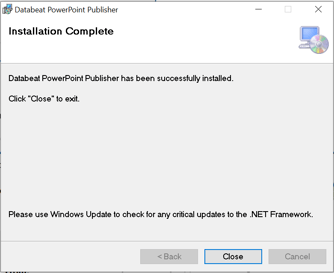 Start PowerPoint Publisher
It will now prompt you to install the DatabeatOMNI Publishing.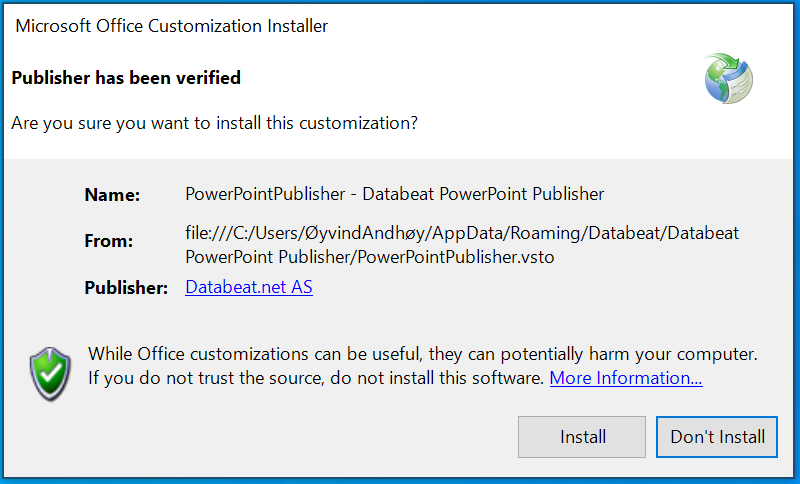 Verify Install
Verify that DatabeatOMNI Powerpoint plugin has been installed by checking your Powerpoint ribbon, it should now have a DatabeatOMNI menu item.