In this article, we will describe how you can show content and information on the meeting room screen. When the meeting room is available - and yet have a user-friendly and easy connection to your PC.
Many people we talk to want the meeting room screen to play content when the meeting room is available and when the screen is not in use. What´s important is that you can connect your device to the meeting room screen without any complication or hick-ups.
What you need:
1x OMNIplay3 - Power Adapter and HDMI cable included in the box
1x HDMI cable - for connecting to PC / other devices, typically a longer cable
1x Meeting room screen - which supports Auto Source Switching and has two HDMI inputs
What type of meeting room screen you have will quickly determine what options you have, but most displays support something called "Auto Source Switching." This makes it possible to decide that the monitor should, for example, prioritize the cable connected to HDMI1 over HDMI2.
If you connect your PC on HDMI1 and OMNIplay3 on HDMI2, you are more or less done! This is a feature that you can find and enable in the menu of the screen with the remote control.
Here's how to do it
Which meeting room screen you have determines what you find in the features menu. We'll start with Samsung's professional displays in this article.
Step 1
Make sure your monitor has
two HDMI inputs first.
You can also use
DisplayPort
inputs, as well. Make sure the screen supports
Auto Source Switching / Source Prioritization
by using the remote control and looking at the settings in the menu. On most Samsung professional screens, you will find the settings under
Menu / System / Auto Source Switching.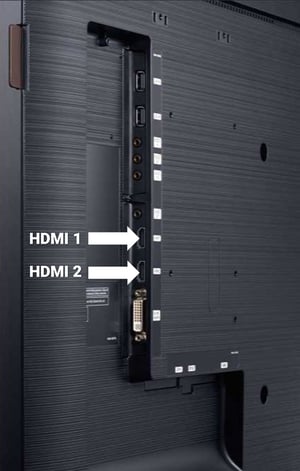 Auto Source Switching: ON
Primary Source Recovery: ON
Primary Source: HDMI1
Secondary Source: HDMI2


When done and you can now connect the OMNIplay3 and a cable for PC or other devices to be displayed on the screen.
Step 2
Connect the OMNIplay3 and the supplied HDMI cable. Then, connect the other end of the HDMI cable to the monitor's input labeled HDMI2.
Step 3
Connect the other HDMI cable to the meeting room screen input labeled HDMI1 and pull it to where you want to connect your PC and other devices.
Then you're done! Feel free to test how the screen responds and that you remember all the settings. You can expect it to take approx. 1-5 seconds before your PC appears on the screen after you connect. Then it takes approx. 5-10 seconds before OMNIplay3 reappears on the screen.
Of course, there are other and some better ways to do this, as with everything else, but this is a very cost-effective way to get content from DatabeatOMNI on the meeting room screen when not in use.
NB! Using DisplayPort cables or DisplayPort adapters on the HDMI cable can cause challenges because DisplayPort is an "active" signal, so the screen thinks it is on all the time.
I hope you learned something new! If you experience problems or have questions, contact us via chat, contact form, or support@databeat.net.