Microsoft Sway is a Microsoft Office storytelling tool, a simple-to-use "Lightweight Powerpoint". The DatabeatOMNI Sway widget allows you to use Sway OMNI as part of your Digital Signage communication, a very powerful feature.

Requirements
DatabeatOMNI user with Microsoft Office365 credentials
Databeat OMNIplay pro license
Compatible OMNIplay hardware (recent Samsung, LG, Sharp, Philips, Android players)
How to use Sway
Sway can be accessed via Office.com (using your Office 365 account) and it can be downloaded as a Windows10 app. If you Google "Sway training", you will find a number of various options, ie on udemy.com.
Creating and working with Sway is not part of this knowledge base, please refer to Office or any other training opportunities. However, we will show you how to link your Sway presentation to DatabeatOMNI.
Sway
In Sway (on web or in the Windows 10 app), top right corner, find the button "Share". This opens up a few sharing opportunities.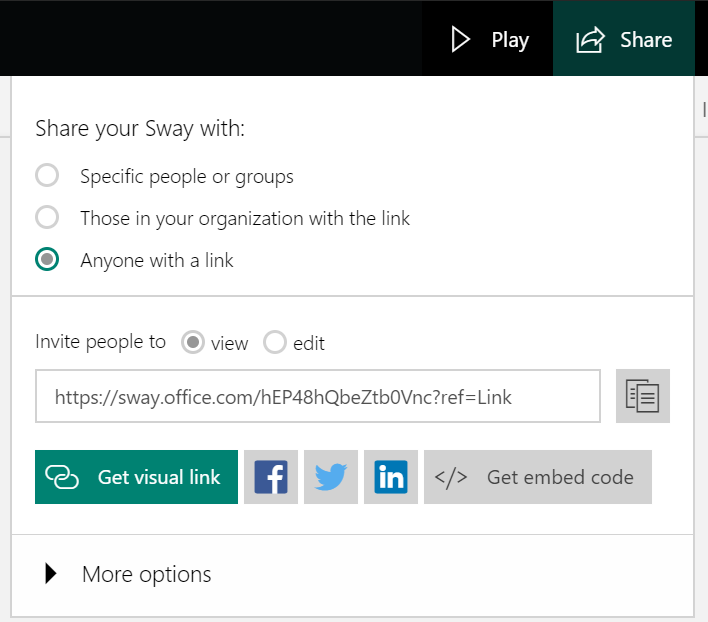 Click on the </> Get embed Code, then the "Copy to Clipboard"
This copies the code to memory so that it can be pasted in the DatabeatOMNI widget config.

If you want to reset or change sharing, ie with whom to share, we suggest to click on "More Options" and Reset the Share settings (This will create a new share token). The code will then have to be copied to memory and pasted to the DatabeatOMNI widget.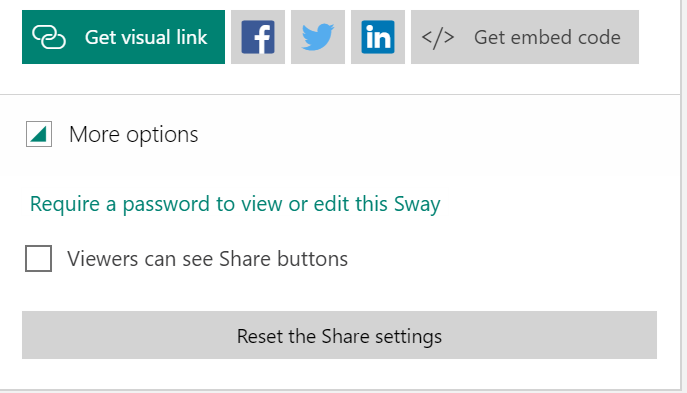 Tip
You need to make sure your presentation runs automatic. To the far right, three dots represent "settings". Click to set settings for your Sway presentation. Verify that Autoplay is enabled.
Note, that you may select duration per slide on the slider.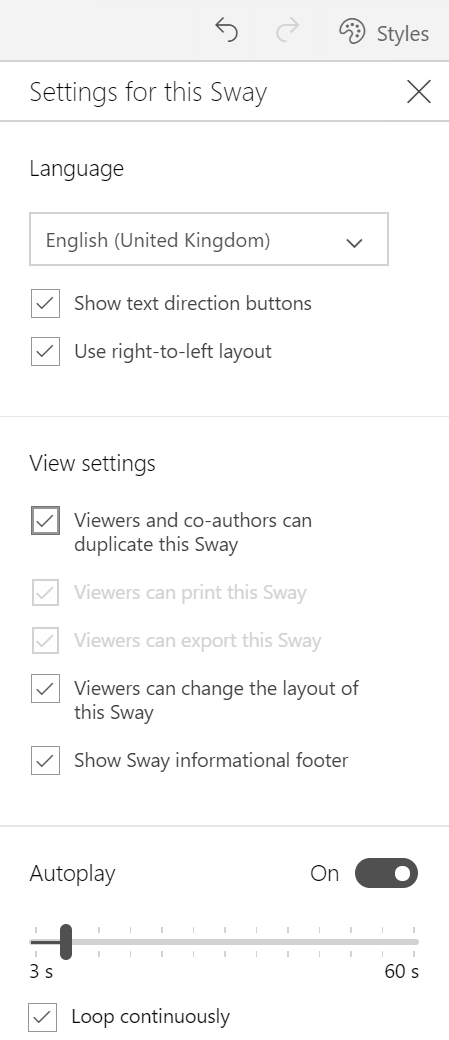 DatabeatOMNI
NB! You must be logged in as an Office365 user to access Office 365 integrations.
Access Screendesigner, select Tab Office, you will find the Sway icon, click on it to access the Sway configuration.
Paste (ctrl+v) the copied code into the Embed code field.
Click Save (The Widget config will close, and you will see you Sway presentation on screen)
You may position and resize it, but not change the aspect ratio.
When you are happy with your widgets, press [Publish]

On the bottom line, you may use the Sway button to access the Sway homepage directly.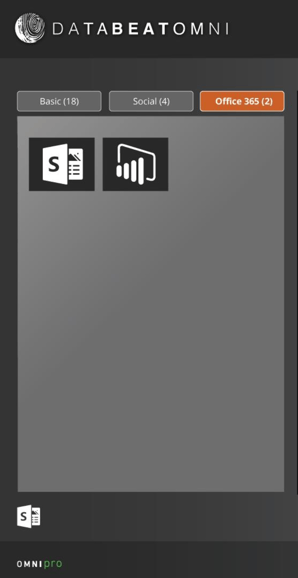 Links
What is Microsoft Sway (Wikipedia)
Sway vs Powerpoint: What's the difference (GoPTG)
Go to Sway homepage (office.com)
Get Sway for Windows 10 (Microsoft Store)
Training (Udemy)