Troubleshooting: How do I enable Device Administrator on an OMNIplayer?
In this article, we will show you how to enable OMNIplayer as a device administrator. This activation approves the required settings for operation and prevents showing reminders and notifications on the screen.
When installing and configuring OMNIplay3, you must activate the device administrator. If this step is not completed, the unit will not be able to check the required settings for operation. Shortly after startup, a window will open as an overlay on the content displayed on the screen, which will prompt you to enable the device administrator.
How can you make sure your OMNIplay3 has enabled the device administrator for OMNIplayer to release this reminder?
After your license key is configured and keyed into your OMNIplay3, you will receive a reminder to check the following settings on the media player.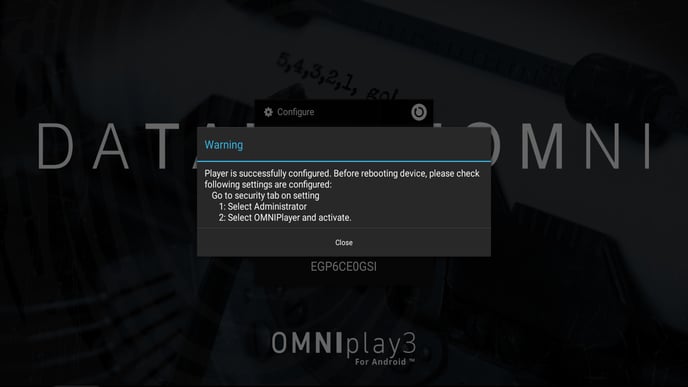 Open Settings in the OMNIplay3 interface
Computer Mouse: Move the mouse pointer to the top of the screen, click and drag. A box will be pulled down. Drag the box further down, click the settings icon.
OMNIplay3 Remote Control: Press "Left Arrow"
Keyboard: Press "S"
Under the Personal tab, click Security
Click Device Administrators
Check the box for OMNIplayer and select Activate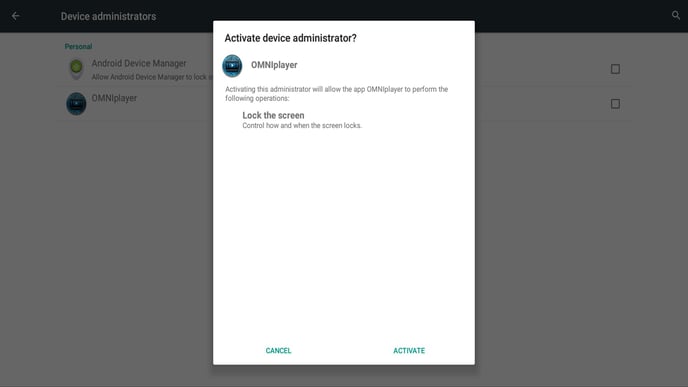 Quick Tip: Shortcut to return to viewing your content:
Computer Mouse: Right-click
Remote Control: Back Button Keyboard: Esc