The Philips 10BDL3051T 10" monitor is an Android-based 10" screen much used for Meeting rooms. Occasionally it requires updated Philips firmware. Here is how to do the update.
Note: Recommended for experienced users. Ensure that the model is correct. This does only apply to the selected model.
This firmware update solves the issue with Databeat Doorsign: Not able to retrieve meetings from Office 365. Message.... (See below).
This issue is related to an expired security certificate.
Databeat released a temporary patch (07.10.2020) that automatically bypasses this issue. The screens will continue to work with this patch, but is less secure.
We STRONGLY recommend doing this update to secure the system.

Retrieve new firmware from Philips
Firmware v 4.5 can be downloaded here
Prepare USB disk
Ensure that the USB is formatted correctly (using FAT file system).
In the root of an USB disk place the update.zip
On the Philips 10" Device
Press in sequence the rounded button and the volume down button behind the display

Enter xxx (1234)

Click "Settings".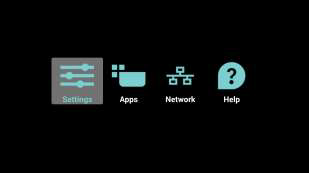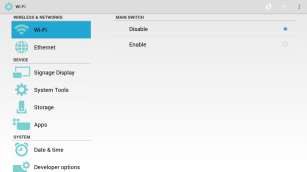 Plug-in the Storage device.

Choose "About" -> "System updates"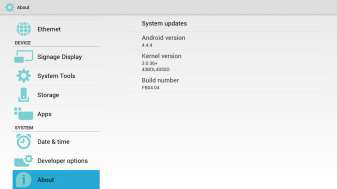 Choose the update file from the list and press ok.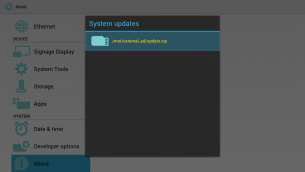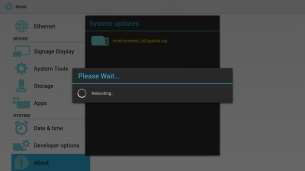 The monitor will reboot to perform the update and reboot again when the operation is finished.
Once the monitor reboots,
Enter again the admin menu and select settings
Select "System Tools"
Select "Factory Reset", press "Factory Reset"
Please note: This operation will bring all the Android settings to factory default and delete all downloaded files and apps.
This operation is needed to complete the upgrade procedure and ensure correct
the functioning of the unit
The Databeat Doorsign installation procedure will be found here.
Before you do a Factory reset, write down the licence key on the display.
Double-tap on the upper right round button on the backside of the display.
In the upper right corner, you will find the licence key to the display.