Databeat OMNIplay4 is an external Android-based media player (digital signage media player) dedicated to DatabeatOMNI. Learn more about OMNIplay4 in this article.

What is Databeat OMNIplay4?
Databeat OMNIplay4 (OP4) is OMNIplay3's "big brother". The OP4 functions similarly to its sibling in several aspects but is excelling in certain tasks, like displaying PowerBI dashboards and reports, powering a LED video wall, or displaying webpages.
The device is powered by advanced dual-core and quad-core processors to ensure smooth multitasking and efficient content playback. Its Mali-T860 GPU, supporting a wide range of graphics APIs, guarantees impeccable rendering of high-definition content, creating stunning visual displays that captivate viewers. OMNIplay4 comes equipped with 4GB of RAM and 32GB of ROM, providing ample storage space and processing power for media-rich applications. It can also come with 4G SIM capabilities if there's no local network available.
Did you know?
The OMNIplay4 media player is specifically designed by Databeat to be a perfectly balanced hardware solution for most LED walls.
OMNIplay4 has the unique ability to automatically adjust the HDMI output resolution to match your custom channel target resolution in DatabeatOMNI. This means that you can achieve the exact input resolution for your LED scaler without compromising the picture quality. (Top left, 0x,0y. Min: 201x201. Max: 3839x2159)
This eliminates the need for managing an expensive Windows PC with updates, whilst still providing great picture quality for your LED wall at an affordable price. For more technical information, please feel free to reach out to us.
Hardware Specifications
CPU: Dual-core Cortex-A72 up to 2.0GHz, Quad-core Cortex-A53 up to 1.5GHz
GPU: Mali-T860, Supports OpenGL ES1.1/2.0/3.0/3.1, OpenVG1.1, OpenCL, DX11
RAM/ROM: 4GB RAM, 32GB ROM
Unit Connector: DC IN, 12V; 1000M Gbit LAN; HDMI2.0; USB Host x 2; USB OTG x 1 (Type C); 3.5mm Earphone Jack; TF; Micro SIM Card Slot; 4G Antenna (optional) / WiFi Antenna (default)
Network: Gbit LAN, Dual-Band WiFi (802.11n/ac); 4G LTE (optional)
Extension Ports: Reserved pins for LVDS, Backlit, AVR Output, MIC, Touch Panel
Resolution: 4K@60Hz
OS: Android 9.0
Accessories
OMNIplay4 remote control
HDMI Cable (1M)
Power Adapter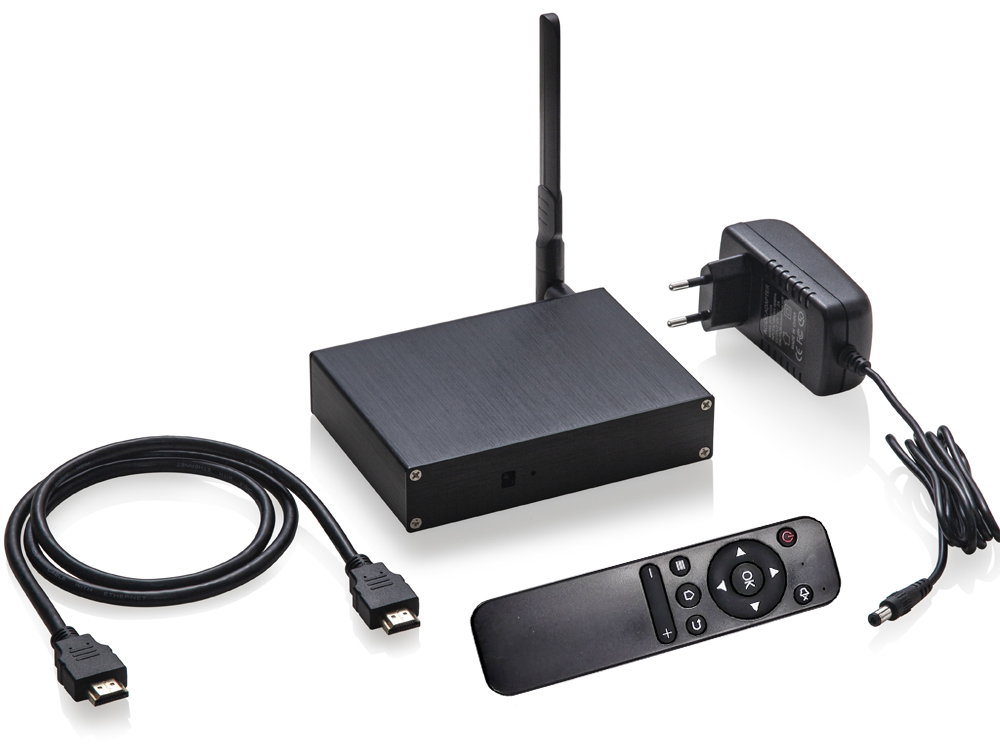 What do you need to get started?
To use the OMNIplay4 device, you will need a screen that can be connected to the device using the HDMI cable. Additionally, the device requires both power and network connectivity to function properly. It supports both wired and wireless networks, giving you the flexibility to choose the option that suits your needs.
In order for the OMNIplay4 to display your content, it must be equipped with a DatabeatOMNI license key. This license key links the device to your DatabeatOMNI account and provides it with the necessary channel and content to play. If you do not have a license key, you can easily obtain one by logging into your DatabeatOMNI account. Simply navigate to the "Locations" tab and then click on the "OMNIplayer" tab. Here, you will find an overview of the available license keys (MediaplayerID) and have the option to order new licenses if needed.