Databeat OMNIplay3 is an external Android-based media player (digital signage media player) is dedicated to DatabeatOMNI. In this article, we will describe how it works and what you need to get started.

What is Databeat OMNIplay3?
Databeat OMNIplay3 is a stable, high-quality external media player that connects to a monitor with an HDMI cable. OMNIplay3 is excellent for digital signage displays and is perfect when your screen doesn't have a built-in media player.

OMNIplay3 is dedicated to DatabeatOMNI, and the OMNIplay app for Android comes pre-installed on the OMNIplay3 device. You can remotely control the media player directly from DatabeatOMNI in a browser where you have the option of linking the media player to your media library for showing your content.

OMNIplay3 has excellent support for various media files and can play 4K content at 30hz. It supports wired network, WiFi / Wireless network, 16GB total storage and is energy efficient. This makes OMNIplay3 a very versatile and cost-effective digital signage media player.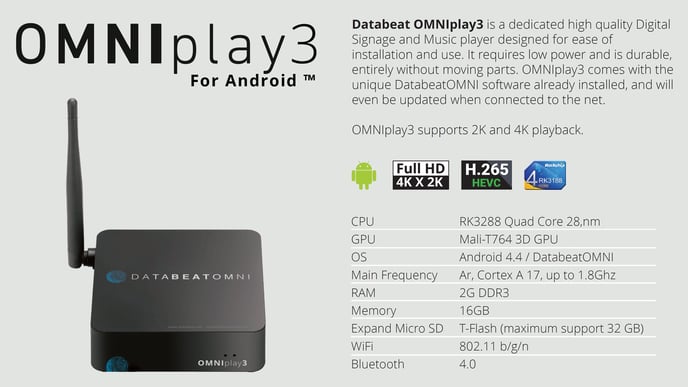 What comes with the OMNIplay3 box?
OMNIplay3 remote control (Note: Needs 2x AAA batteries)
HDMI Cable (1 meter)
Power adapter (Type C for Europe as standard)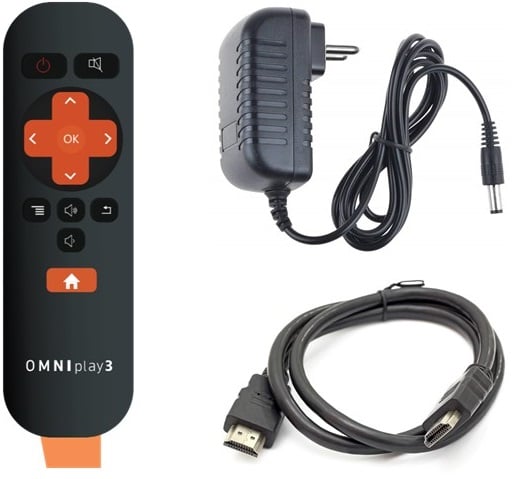 What do you need to get started?
To use OMNIplay3, you need a screen that you can connect to the device with the HDMI cable. The OMNIplay3 unit needs power and network connectivity to work and supports both wired and wireless networks.
For OMNIplay3 to display your content, it must have a DatabeatOMNI license key that links it to your DatabeatOMNI account and provides it with a channel and content to play.
If you do not have a license key, you can log into DatabeatOMNI, select the Locations tab, and then the OMNIplayer tab. There you get an overview of the available license keys (MediaplayerID) and you can order new licenses.
OMNIplay3 usually comes pre-configured with your license key upon delivery. If the media player is ordered without configuration, you can read more about how OMNIplay3 is set up here.