This article describes what Databeat Booking is and what you need to do to get started. It also shows how to design and configure your Databeat Booking account and let your tenants access and book your Office 365 calendar resources.

NOTE: This is a new Feature in the Databeat Doorsign 2 Project (Q3/2021). Some of the features have been enabled in the current release, but not yet all. Design and features may change in the final release.
What is Databeat Booking
Databeat Booking is a multitenant bookings solution. It allows external users to book your Office365 calendar resources (rooms/resources and people). You can decide who can be tenants, if and how to authenticate your tenants, which Office365 resources to make available and when they are available.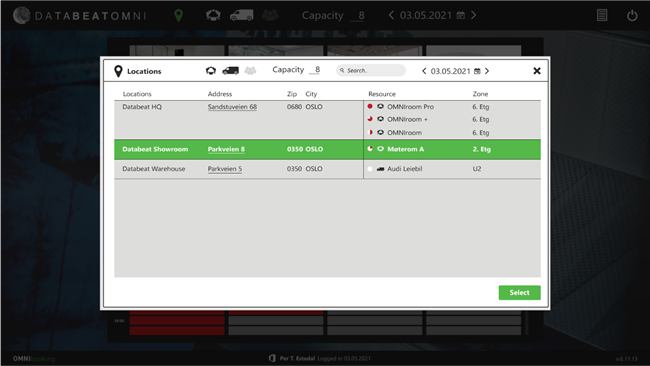 What do I have to do before I start with Databeat Booking?
If you don't have one, create a DatabeatOMNI account using your Office 365 user credential. You can sign up for free here.
In DatabeatOMNI add the relevant location(s) where your relevant Office365 resources are physically located.
Link DatabeatOMNI to your Office 365 calendar to enable access to the relevant resource calendars.
Add and group the relevant Office 365 resources to DatabeatOMNI.
Office365 separates between rooms/resources and users. DatabeatOMNI and Databeat booking allow you to group and separate between rooms, resources and users and place these in separate tabs and to add useful information, and graphics/pictures and to assign screens, ie Doorsigns to these resources.

Enable the relevant resources for Booking. (see here).
NB ! DatabeatOMNI needs to communicate with your company's Office 365 account. This requires that you have the necessary Office 365 credentials to do so.
Talk to your Office 365 administrator if you don't.
How to setup Databeat Booking
After the general setup in DatabeatOMNI. Start the Databeat booking app (link to be provided later) to configure your Databeat booking system. Log with the same Office 365 credentials you use for DatabeatOMNI. You are now the "owner" of the resources that you have shared for booking, and you may configure how these are to be available for your customers (tenants). You can change
Design How the UI is to be for your tenants (and yourself)
General Settings. Specific rules and settings for your Databeat booking site
Databeat Booking design
The design that you will see, is similar to what your tenants will see. As an Owner, you may also use the UI to book, the same way as Tenants. The only difference is that you will have access to options to design or select a template for the layout and to set/change General settings.
Databeat booking allows you to design the Tenants layout in two ways;
By creating a custom template. This is for front end designers/developers. Allow them to use access and use the template editor available in the header combo.
By a simple graphical interface. Here you have somewhat more limited options, you may choose (top to bottom, left to right):

Top left image or logo to show
The header colour and opacity (more or less transparent)
The background picture/graphics
An overlay to cover the background picture (to make the UI more visible), its colour and opacity
the UI overlay and its colour and opacity
Show available time as busy (red) or free (Green) and secondary colour and opacity. More info here
The footer colour and opacity (more or less transparent)
Below: Main UI for various settings.
Centre: Image editor to add and crop and scale, ie the background image
Bottom: UI to set the colour and opacity (bottom slider)


Databeat booking General Settings.
In the header, click the configuration cog-wheel icon to access the General Settings.
Available for all. If you want everybody to access and book your available resources, or if you want specific tenants to have access. (To be selected by domain or email address).
Require Login. Regardless of your initial setting, this will require users to log in with a third-party authenticator (Microsoft Office, Google G-Suite, Apple, Facebook, Microsoft, Google or Amazon). (we recommend you enable this).
SMS verification. This will require users to provide their cell phone number so that you can require them to verify themselves with SMS (two-factor authentication).
Add email or domain. If you opted not available for all, add specific domains or email address that is allowed to book.
Subdomain. Databeatbooking is available on www.databeatbooking.net. Choose your subdomain, ie yourname. This will then be your Databeatbooking web address;
htttps://yourname.databeatbooking.net . Your booking site can be accessed directly by typing this in your browser, or you can add it with a link on your own website.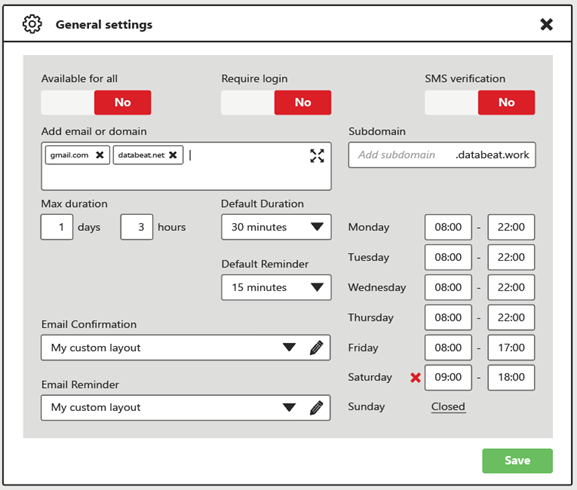 Max Duration. For how long can your tenants book any resource (max days and hours)
Default Duration A default value for the length of a booking (user can change)
Default Reminder A default value for booking reminders (to tenants)
E-mail Confirmation. To select, and create templates for E-mail confirmations
E-mail Reminder. To select, and create templates for E-mail confirmations
Available weekdays and hours. To select days and hours, when the Office365 resources are available to be booked.
Q & A
Does Databeat Booking work with Google G-Suite?
Not in its current release. But if demand is there we plan to support Google G-Suite with future releases.
What is the difference between the Red and Green Layout ?
There are two opposite Tenant views to choose between (examples below):
Focus on the busy hours (red). Tenant must click on the non-red colour to select available.
Focus on the available hours (green). Tenant must click on the green to select available.