This article explains what the Picture-in-picture widget (PIP) is and how to add and edit the widget in DatabeatOMNI Screen Designer.
Video: How to add a Picture-in-picture widget in DatabeatOMNI
The Picture-in-picture widget (PIP) can be powerful and useful, but it is essential to understand what it can and cannot do before test it out.
Like all other widgets, the PIP widget will be added on top of the content in your channel.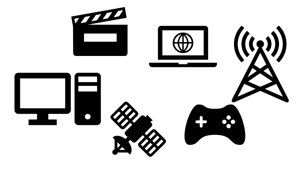 The PIP widget specifically enables you to add a PIP window. In this PIP window, you will select which external source to display.
This means that your Public Display can additionally show a signal from an external device through an HDMI, Display Port, VGA, or DVI cable on top of your channel's content.
A typical use case for the PIP widget is when you want to display an external source of content like your laptop, an Apple T.V. device, or a Chromecast device.
You will need to plug your external device into the Professional Display, I.E. with an HDMI cable. When the external source is connected, the OMNIplay app will display your source in the PIP window you have created. If there is no external source to be found, the window will be hidden/transparent.
1. Drag and drop the PIP widget from the left side of the interface onto your content on the right.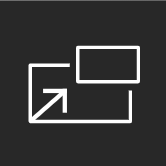 2. Select the cable you want the PIP window to display.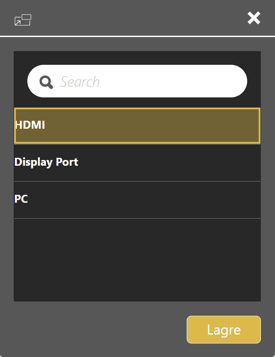 3. The PIP window will appear, and you can adjust it.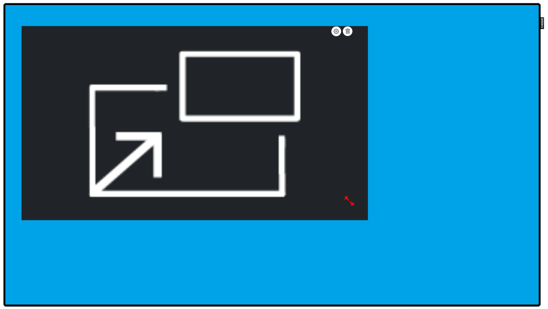 Please note that the PIP window in DatabeatOMNI Screen Designer will only show you this box. It will not be able to play and preview the content of the external source you have selected.
4. Play the channel on your Samsung Public display with the OMNIplay app.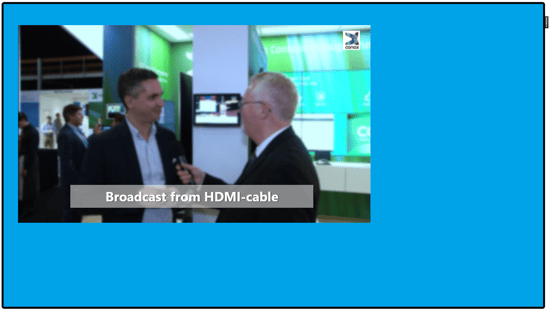 Here you see a preview of what it will look like in production.
In the PIP window, you see a broadcast coming from the HDMI-cable.
Requirements and limitations
The PIP widget is available in Screen Designer if you have the Pro-license.
Using the PIP widget requires you to have an external device physically connected to a display with an internal player running the OMNIplay app.
If you are using a Samsung Tizen Public Display, you can use the PIP widget.
If you are using an external player like the OMNIplay3, you will not be able to use the PIP widget simply because you can not put an extra HDMI into the OMNIplay3.
Pro tip: You can mix multiple widgets and create your custom Screen Design.