In this article, we will show you how you can use an OMNIplay3 to show content on a video wall.
What is a video wall?
A video wall is a large screen made up of several smaller screens. With a video wall, you can display a sizeable overall picture on the entire video wall instead of several small individual images on each screen.

Video walls come in all possible sizes and formats. A typical video wall layout is four screens put together in a 2x2 layout. This is a cost-effective solution and a flexible format to work with when it comes to content production.
Tip: If you are planning to build a video wall, it´s important to think about the format of your content. For example, if you have a lot of video files in landscape (16: 9), the video wall should be set up to fit landscape content. So you don't have to create content in a special format.
What is Databeat OMNIplay3?
Databeat OMNIplay3 is a stable, high-quality external media player that connects to a screen with an HDMI cable. OMNIplay3 is perfect when your public display doesn't have a built-in media player. Read more about OMNIplay3 here.
What do you need to set up a 2x2 video wall?
1x OMNIplay3 media player (1x HDMI cable and power adapter included in the box)
3x high-quality cables long enough to connect between each monitor (DisplayPort or HDMI)
4x screen monitors that are mounted close together as a significant and support DaisyChain and video wall layout.
Step 1 - The Source
The four screens are mounted on the wall in a 2x2 layout. The OMNIplay3 connects to the screen at the top left. The image from the OMNIplay3 box is displayed on the top left screen via an HDMI cable.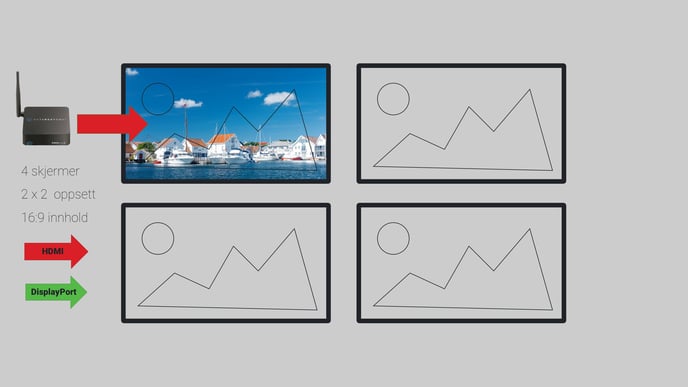 Step 2 - Daisy Chaining
Now we need to view the image that is on the screen in the upper left corner, connect the displays with cables, and enable the 2x2 video wall layout on each screen. There are several ways and cables you can use.

For example, on Samsung professional displays, DisplayPort cables are preferred for video walls, but multiple screens also support video walls with HDMI cable. The most important thing about these cables is that they are long enough to pass between each monitor and are of high quality.
Connect the DisplayPort cable from the top left screen to the top right screen. The cable should be inserted where it typically says "DP Out" on display in the upper left and connects to "DP in" in the screen in the top right.
Repeat step 1 with the screen in the upper right to the screen in the lower right
Repeat step 1 with the screen at the bottom right to the screen at the bottom left.
A quick tip: In this step, the screens determine which cables you need to use and how the video wall menu setup is and what it supports. Typically, Daisy Chain and video wall setup on professional screens above 43 '' are supported, but definitely recommended to check this out before purchasing screens!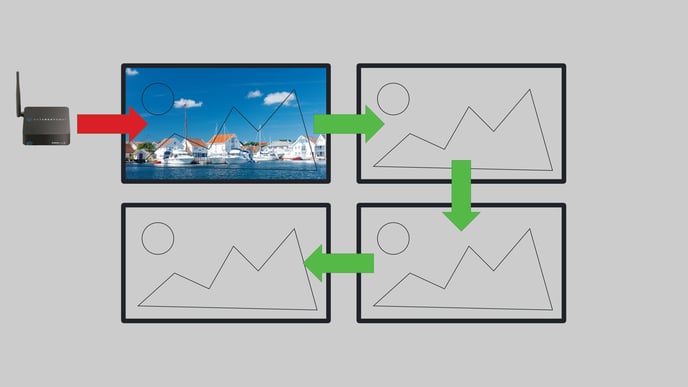 Step 3 - Enable video wall
The screens now have a source and have been connected have been daisy-chained. The last thing left is to enable the video wall functionality of the screens. This is typically done with the screen's remote control, and the settings can be found in the Menu. On Samsung professional screens, you can press the "HOME" button and select the feature video wall.

In the video wall menu, you must set the screens to 2x2 and give each screen its position in the layout. When you have done this, you are done setting up your video wall.
A Quick Tip: The OMNIplay3 media player lets you control when you can turn on and off in DatabeatOMNI. Feel free to check what happens when it turns off or you turn it off. Optimally, the screens should detect that the OMNIplay3 source is turned off and the screens should respond by turning off. When OMNIplay sources are turned on again, the screens should wake up automatically.
I hope that you have learned something new :) If you are uncertain, contact the support team and they will help you with setting your video wall.