Since the release of Databeat Doorsign, we have received a couple of questions about doorsign. This is much appreciated because this will help us both in the technical and commercial aspects. Here are the questions that we have received.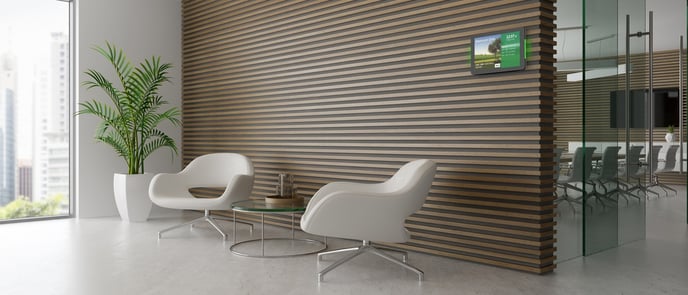 Licensing
"What are the license terms of Doorsign? Is it the same as with Samsung?"

Databeat Doorsign is on the same platform as DatabeatOMNI, but because it has fewer opportunities, we have chosen to license it individually. Databeat Doorsign is licensed at a fixed price with three years of updating/maintenance included.


"Is the software updated regularly under the license period, and what happens when the period is over?"
Databeat Doorsign will continuously and automatically update during the license period in the same way as with DatabeatOMNI and OMNIplay. New functionality, changes, and bug fixes are automatically added. After the license period, the license will still apply, but will not include updates. However, one can choose to extend the license agreement.


"Can I get Doorsign and Omni in a license bundle?"
DatabeatOMNI and Doorsign are technically fully integrated, and you use DatabeatOMNI to manage and determine content (e.g., using a DatabeatOMNI video channel as background) and Databeat OMNIplay software on the screens.
Doorsign features automatically appear when you integrate DatabeatOMNI with your calendar. However, there are separate OMNIplay licenses. Talk to reseller/partner about prices of bundles or larger quantities.
"How can I test the products? Is it possible with a Proof of concept?"
We want to avoid customers who are uncomfortable with our products and therefore encourage testing before purchase. Databeat Doorsign is an integral part of DatabeatOMNI, and you can quickly and easily create your demo account (without providing your credit card information).
Here you can generate a free 30-day test license key that you need, to have Doorsign on display. Admittedly, a physical screen is required. It can either be ordered from your reseller or distributor without a license or possibly tested on another device: Android Tablet, Android PC, or Android smartphone.
Delivery
When does the delivery Databeat Doorsign start?
Databeat Doorsign is delivered to several customers already and is now available for order. Read more about Databeat Doorsign.

"Do you have a time estimate when you have a solution for an absence board?"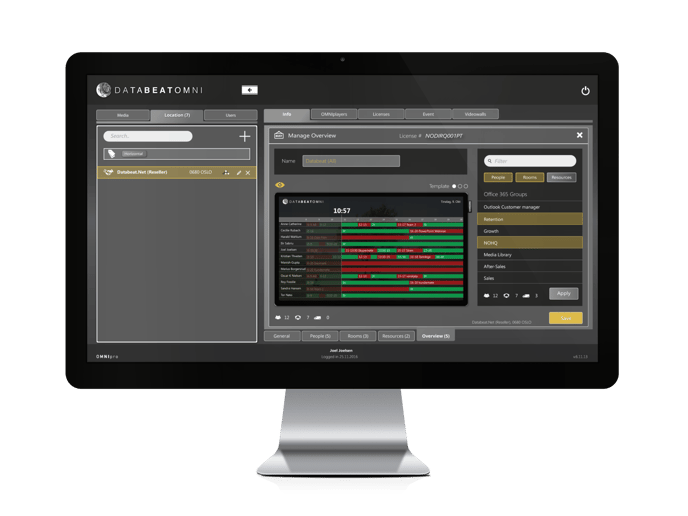 Databeat Overview is ready for delivery and is used by several customers. Read more about Databeat Overview.


Will Databeat Overview be available in portrait view as well?

Databeat Overview is available in portrait and landscape views.

How do I order?
Contact your reseller or distributor. Contact us directly if you do not already have a preferred reseller or distributor, and we will help.


Will the Doorsign module come pre-installed on the Philips panel, or do we have to install it as an APK ourselves?

Databeat Doorsign is delivered primarily as a complete bundle package, screen, and software pre-configured and ready to use. We work with the distributors responsible for this.


Screens and Public Displays
"What is the ideal screen size?"
Doorsign is an application that technically works on screens of all sizes, and there are probably several views. We think 10 "is a nice size for Doorsign. It becomes easily visible, without being dominant. We even use the Philips 10BDL3051, a 10" multi touch screen with LED light on the side, which is also automatically controlled by Doorsign.
Then, even without standing directly in front of the screen, one can see if the meeting room, resource, or equipment is available or occupied. Doorsign is a great tool to have if you have several meeting rooms next to each other.

"Is it only available on Philips?"

No, Doorsign uses our standard Databeat OMNIplay, which works on multiple platforms. It supports both Android and Samsung SSP / Tizen. Soon, more platforms, such as Microsoft Windows (in Beta) and LG WebOS (in Beta)

The supported Philips screens are based on Android, but we have made some unique customisations in collaboration with Philips to make it more user-friendly. One can, for example. To a greater extent, manage the screen, e.g., with fully-automatic program updates, control of light on the side of the screen, In DatabeatOMNI you can make remote screenshots and check operating status.

You can also download Databeat OMNIplay from Google Play or Windows Store (in Beta). These are identical in functionality but do not allow the same level of control.


General about Doorsign
Is there integration with Google Calendar?
Yes, there is integration with Google Calendar in G-Suite.
Own article for setup and connection to G-Suite can be found here: