Decide your locations' opening hours and schedule your media files' display time from within DatabeatOMNI. Choose between a specific schedule for your media players or let them be active 24/7.
There are 2 ways to adjust the display time on your screen, location wise(1.) and file wise(2.). If you do not have special requirements for content being displayed at specific times, but simply want to adjust the opening hours for the locations, meaning for example that all the screens switches off at 21:00 and switches on at 07:00, then you dont need to proced to point 2.
1. All the screens at the location will switch on or switch off based on the timings set. Here's how to set service hours for your location in DatabeatOMNI:
Log in to DatabeatOMNI and go to Locations.
Select the desired location.
Under the tab "Info" you will find Service Hours on the right side of the interface.
Select between "Schedule" and "24/7".
Select and de-select a day by clicking the name of the day.
Specify service hours the given days.
Remember, this overrides settings done on the file level(point 2).
2. Changes made here does not affect the display time of the screen itself. If the display time of the file(s) are set to 21:00, but the locations'(see point 1.) opening hour is set to 23:00, then there will appear an error message on the screen between 21:00 and 23:00, before the screen switches off at 23:00.
Therefore, if you want all your screens to switch off automatically at 21:00, you adjust it location wise.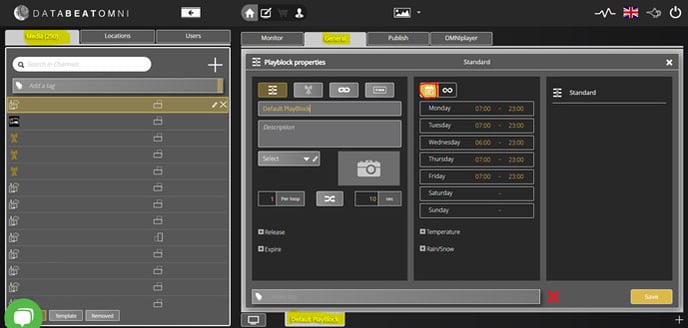 Click on "Media" at the top left on the left window
Click on the channel you want to edit
Click on "General" among the columns on the righ window
Click on the playblock you want to edit at the bottom
Click on the calendar icon marked in red and set your desired display time
Note that if one have more than one playblock on the same channel, one have to adjust the display time on all off the playblocks in order to stop the screen from playing any content
Moreover, one can have fixed opening hours at a location, for example from 07 till 21. And if one does not want one or more screens to follow the fixed opening hours bot rather be on 24/7, one can untick «PowerSave Enabled», as shown on the picture below. Then this/these screen(s) will remain on 24/7 and the rest of the screens will follow the location's opening hours.