Databeat OMNIplay3 is an external Android-based media player (digital signage media player) is dedicated to DatabeatOMNI. Learn more about the OMNIplay3 in this article.

What is Databeat OMNIplay3?
Databeat OMNIplay3 is a reliable and stable external media player that seamlessly connects to a monitor through an HDMI cable. It is specifically designed for digital signage displays and is particularly useful when your screen does not have its own built-in media player.

OMNIplay3 is specifically designed for DatabeatOMNI and comes with the OMNIplay app for Android already installed on the device. This allows you to conveniently control the media player directly from DatabeatOMNI in your browser. You also have the option to link the media player to your media library, making it easy to showcase your content on the screen.

The OMNIplay3 media player offers excellent compatibility with a wide range of media files and is capable of playing 4K content at 30hz. It supports both wired and wireless networks, has 16GB of storage, and is designed to be energy efficient. This makes the OMNIplay3 a highly versatile and cost-effective solution for your digital signage needs.
Hardware Specifications
CPU: RK3288 Quad Core 28,nm
GPU: Mali-T764 3D GPU
Main Frequency: Ar, Cortex A 17, up to 1.8 GHz
RAM: 2G DDR3
Network: Dual-Band WiFi 802.11 b/g/n
Expand Micro SD: T-Flash 32GB
Resolution: 4K
OS: Android 7.1
Previous generations of the OMNIplay3 ran on Android 4.4 and 5.1.
Accessories
OMNIplay3 remote control
HDMI Cable
Power adapter (Type C)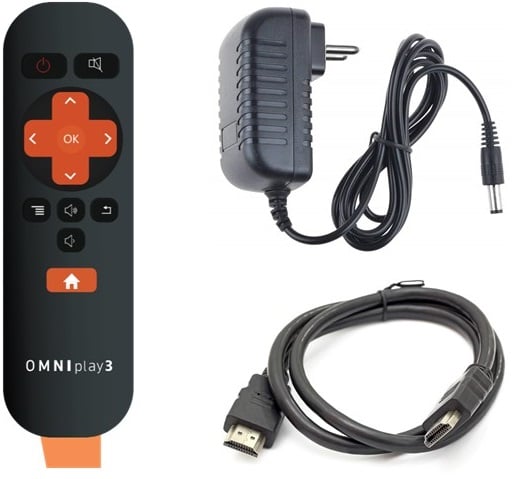 What do you need to get started?
To use the OMNIplay3 device, you will need a screen that can be connected to the device using the HDMI cable. Additionally, the device requires both power and network connectivity to function properly. It supports both wired and wireless networks, giving you the flexibility to choose the option that suits your needs.
In order for the OMNIplay4 to display your content, it must be equipped with a DatabeatOMNI license key. This license key links the device to your DatabeatOMNI account and provides it with the necessary channel and content to play.
If you do not have a license key, you can easily obtain one by logging into your DatabeatOMNI account. Simply navigate to the "Locations" tab and then click on the "OMNIplayer" tab. Here, you will find an overview of the available license keys (MediaplayerID) and have the option to order new licenses if needed.
OMNIplay3 usually comes pre-configured with your license key upon delivery. If the media player is ordered without configuration, you can read more about how OMNIplay3 is set up here.