Can I use touchscreens with DatabeatOMNI and how do I configure my own touch menu that allows users to click and select content to view?
Requirments
Touchscreens(s) with built-in (SoC) or externally connected media player (Tizen or Android).
One Databeat OMNIpro license per screen/player.

NB! The touch option is not available on Databeat OMNI or OMNI+ licenses.
Preparing
Enabling Touch
Touch is enabled as a channel property. In the Channel, Properties locate the Touch button and click to enable it.

This will automatically create two playblocks for the content specifically for Touch :
TouchMenu. For video, image or graphics for the background for the Touch menu.
ShowReel. Video, image or graphics to be displayed after 60 seconds of touch inactivity and instantly interrupted when touch is activated by the user. (Similar to a screensaver feature).

Further, DatabeatOMNI will enable three Touch widgets to personalize the Touch menu where the targeted users can preview, read about, click and choose - click - what content to view.
Info. Name and text to be displayed on screen for each item that users can select
Preview. Preview windows of the selected content
Content Selector. The actual content menu that will be available to select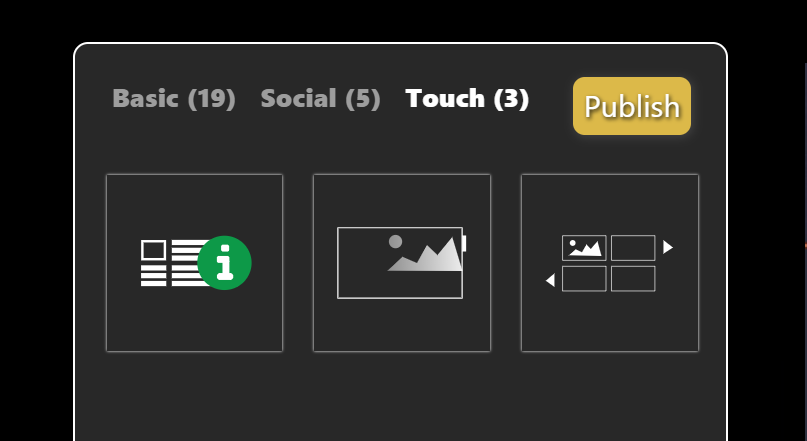 Each widget can be dragged and dropped to the preview screen where it can be placed and sized and previewed (live). Other DatabeatOMNI widgets can be added, text, graphics, weather, etc.
For better quality, we suggest that these things are added as part of the background graphic, image or video.
Note: Video on Video limitation
Screen hardware will typically not be able to render video upon video, so if you want a video for the background (which really can look cool) Preview must be picture or Graphics.
Designing the Layout
Use the Screen Designer to drag n' drop widgets to your screen layout. To access it, click on the Screen-designer icon Topline and center in the DatabeatOMNI main menu. From there locate the Touch Menu to see the three Touch widgets.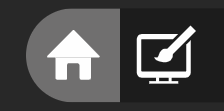 Select one of the Widgets, drag it to the preview screen to position, reposition, resize and configure it. Notice that for some items, like the content selector, you can change both the size of the area the widget will use (cursor is white arrow) and the size of each component inside (cursor is red arrow).
Based on your settings it will attempt to create one or more lines automatically, as you scale. You can also move it around on the screen, as you see fit.