Databeat Doorsign makes it easy to set up digital doorsigns that displays updated information from your Office 365, Exchange-server or Google G-suite. Create digital doorsign for meetingrooms, people or other company resources.
Databeat digital doorsign
Databeat Doorsign makes it simple to display updated information from your calendar in Office 365, Microsoft Exchange or Google G-suite.
With touchscreens a drop-in function can be utilised and users can book a room or resource in a matter of a few clicks on the doorsign screen. Some devices even support lights on the sides of the panel, indicating whether a room or resource is vacant (green) or occupied (red), making it easier to check the current status of the room or resource from any angle. Create digital doorsigns for meeting rooms, employees, or other resources – and publish your own background pictures or video to customise the doorsigns for your organisation.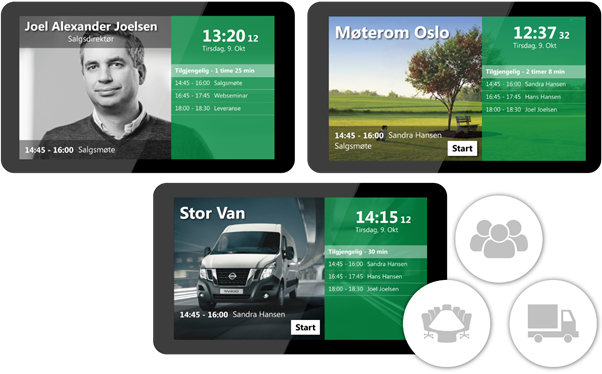 Databeat Doorsign is an integrated part of DatabeatOMNI, enabling you to manage your information screens and your doorsigns in the same web application.
How to start using Databeat Doorsign
To set up digital doorsign with DatabeatOMNI:
Prepare your calendar application to enable an integration with DatabeatOMNI. In your calendar application you can manage who (employees) and which (room or resource) is registered and for which of these you want a doorsign (See how)
Connect DatabeatOMNI with Office365 in the Doorsign module and the chosen rooms, people, and resources, is displayed immediately (See how)
Chose the resource you wish to set up on the doorsign and immediately see how it will be displayed on the screen
Upload a simple picture or create your own channel (with pictures and video) to be displayed in the background on the doorsign screen