In this article, we will introduce you to the benefits of using playblocks to organize and build your channels. There are many possibilities using playblocks, such as sharing and follow content from different channels.
What are playblocks?
To better understand what a playblock is, we have to start by giving a brief introduction to content and channels.
Content is media files grouped and organized in Channels. These channels can be viewed as different folders and categories for your content, which can be displayed on the screen.
Example: One channel with content to attract and inform customers and a different channel concerning internal information for co-workers.
These channels are sub-grouped in one or more playblocks to manage various types of content, screen designs, schedules, and play features. A channel can have multiple playblocks.
Create and delete playblock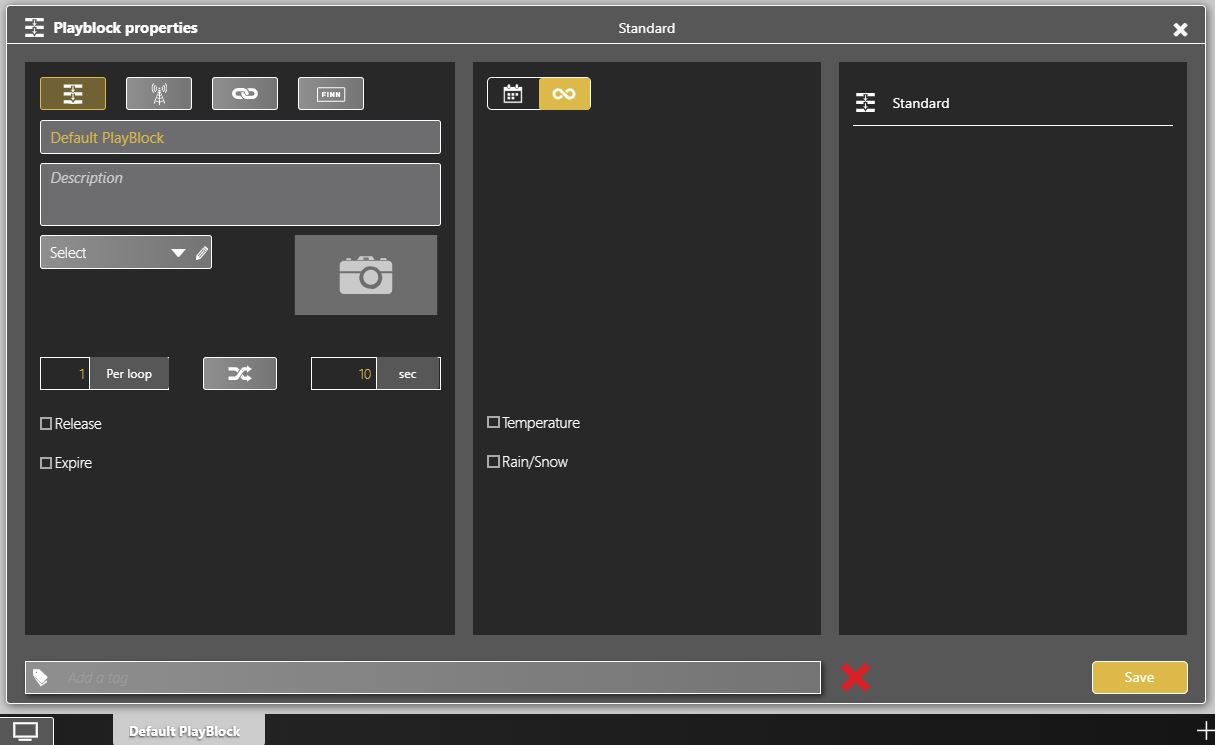 Creating a new playblock is simple; however, to understand why and how this could affect and benefit your content is more complex, especially for someone new to managing content.
Choose your Channel and go to General, then click + on the bottom right side to create a new playblock. Name your playblock and adjust settings as you wish. Press Save when finished. All playblocks will be displayed on the bottom side of the interface.
What can you do with a new playblock?
Playblocks contribute to more helpful user experience, with the ability to group and organize content in a way that makes sense for you. Organize based on schedule, promotions and campaigns, screen design, and play features, with the possibility to share and follow content across your channels.
Delete a playblock by clicking the red X, displayed in the picture for playblock properties above. Please note that this action will delete the content located in this playblock.
Playblock properties
Standard Playblock: Common features, unable to share and follow.
Shared Playblock: A playblock that can be shared with other channels.


We often define the shared playblock as "Master".

Follow: A playblock that can follow a shared playblock.
Finn: Integration with Finn.no. (Requires Finn ID and Finn Key.)
Per Loop: Priority of files. How many times should files in the playblock be played before moving to the next playblock?
Shuffle: Play the files located in the playblock at random
Duration: Suggested duration on content published in the playblock.


Duration set on individual files will overwrite suggested duration from playblock.

Release & Expire: Suggested release and expire date for files published in the playblock.
Share ScreenDesign: Copy the screen design and widgets from the shared playblock.
You can also set more specific playback settings, such as weather conditions and scheduling.
How to follow a playblock from a different channel
Step 1: Make a playblock "shared."
To be able to follow a playblock, it requires the playblock properties to be shared. Ensure that the playblock we wish to subscribe to has these properties.

Step 2: Follow the shared playblock
Once the playblock we desire to follow has shared properties, we can create a new playblock. Choose properties to follow, and select the playblock you wish to follow in the overview list on the right side of the interface. Click Save when you want to create the playblock.
Tip: You can shorten the list by searching for keywords or the name of the playblock you wish to find.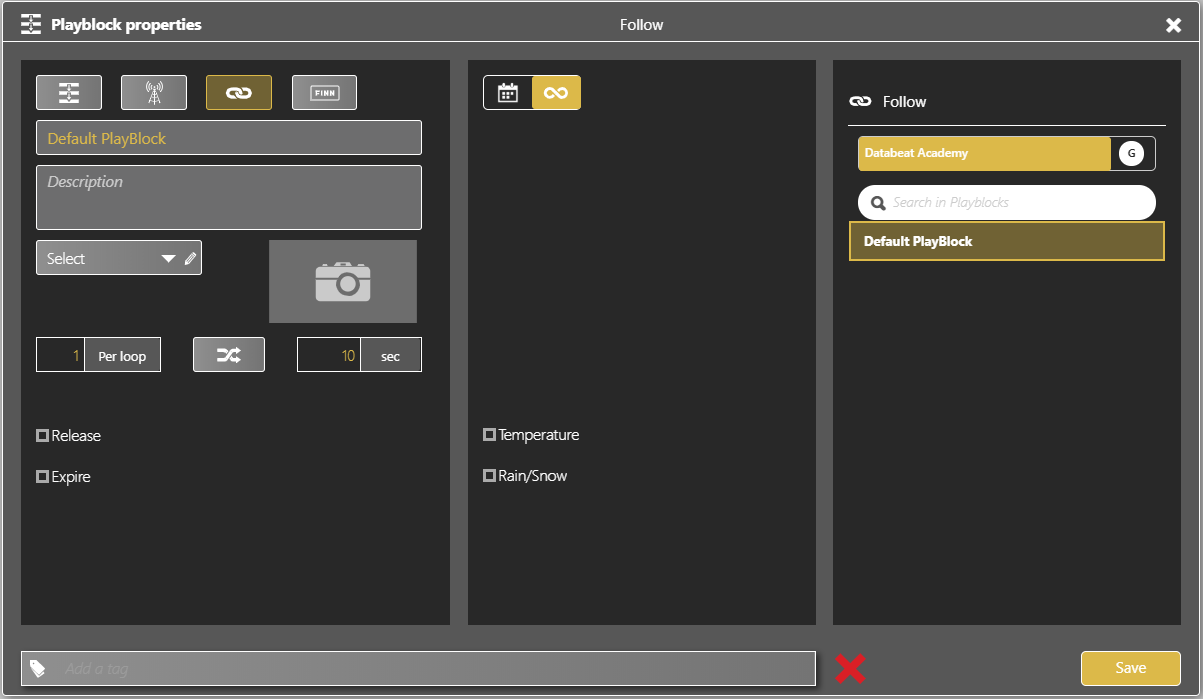 This playblock will adopt the playblock properties from the shared playblock, or master playblock if you will. This includes media files, widgets from screen designer and settings such as files per loop, shuffle, release & expire, schedules and weather conditions
If a media file is deleted, changed, or expired from the master playblock, the media file will also be removed from the followed playblock. With that being said, this does not work the other way around, so you can safely delete a media file from the followed playblock without worrying about consequences for the master.