A black screen is something we always try to prevent. This article describes the most common issues causing a black screen or content not to display with digital signage.

Common issues
Screen is black
A black screen can come from a variety of reasons. One can waste much time trying to solve an issue if the real problem is that its missing power, so let's start with the simplest ones:
Content doesn't display
Once you can verify that the monitor is connected to power and turned on, we can move on to the more advanced troubleshooting. A helpful tip is to look for error messages on display, which will give an indication of where the error is located.
Network. Verify that the public display or external media player is connected to a network. This is often the root of most content display issues. The device will not have access to the content published to DatabeatOMNI if it's missing a network connection. What network access is required to use DatabeatOMNI & Databeat OMNIplay.

Internal player. [Menu] - Network - Network Status
External player. Access settings on the external player to check the network status
Source. Check which source the screen displays.

If OMNIplay is installed through the internal player in the public display, the app OMNIplay has to run display content.
If you are using an external media player (OMNIplay3), the public display has to display the source in which the media player is connected to. In most cases, this source is HDMI, but it may also be DisplayPort in context with video walls. Press [Source] and select an active source.
Active Content. Check to see if the channel has active content playing. If the channel is lacking content, No valid content in selected channel will be displayed onscreen. Log into DatabeatOMNI and verify that content has been published and is scheduled to display content at the given date and time.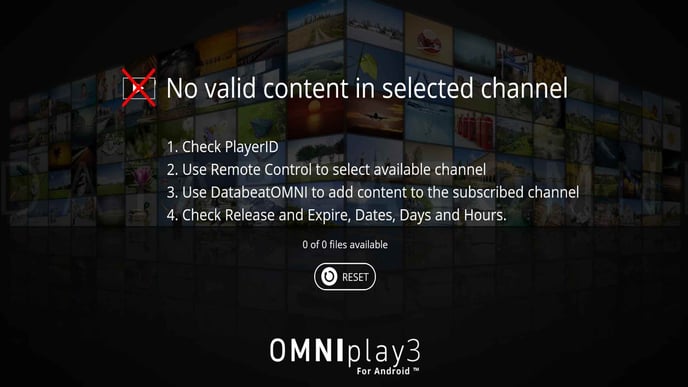 File type, resolution and aspect ratio. If you are not using more complex solutions such as "video wall" or "stretch screens," then there are relatively simple rules to follow for publishing content on screen.


The optimal resolution depends on the screen on which images will be displayed. Typically, FullHD is a suitable resolution. FullHD means a resolution of 1920 x 1080 pixels. Some monitors also support UHD, which is equivalent to 3840 x 2160.

If your screen and channel are in portrait, then reverse the resolution and aspect ratio. The FHD for photo and video in portrait will then be 1080 x 1920.
Internal Clock on the screen. If your content is set to show on a specific time and day, a tip is to verify the time on the screen. Here is how you do that:
1. Press [Menu] on the remote control
2. Select System
3. Select Time
4. Select Clock set
License Key. The license key is wrong or no longer available. If an invalid license key is used, the display will show No valid channel subscription.
Stuck on the loading screen. This issue can be related to:

Network Access: Make sure that network requirements are fulfilled
Time Settings: Set 24/7 service hours from DatabeatOMNI, to see if this prompts a successful launch of the app. If successful,
A memory stick connected to the USB: Remove the USB from the public display.
Faulty firmware update: Shut down the app and install firmware with a memory stick.