To show content published in DatabeatOMNI on a LG Public Display, you need to install the OMNIPlay app. This is how to prepare and configure the LG 22" monitor (LG22SM3B).
Related articles
Do you have an LG monitor running WebOS 4.0? Read more on how to OMNIplay on LG WebOS 4.0 here.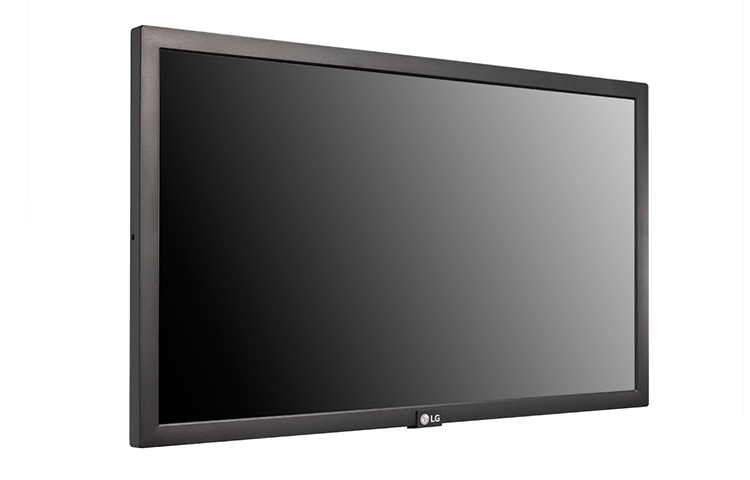 Table of content
Preparations
Requirements
LG WebOS 2.0 monitor and the LG remote
LG WebOS
Power
Internet Connection
License key from DatabeatOMNI
Transport, unpacking, and mounting
Inspect. First, check for damage to the packaging. Take a picture of the packaging before unpacking if you suspect any damage.
Unpack. Carefully unpack the public display and check it for any physical damage. Take pictures of the screen and report damages immediately.
Mount. The screen must be appropriately mounted for the ventilation to work. The warranty will be broken and invalid if installed incorrectly. Rotate the display clockwise to show content in portrait.
Setup and Installation
Step 1: Set Language and Country
Set Language
Set Region and Country
The English Language is the default
Step 2: Connect to the network
Press Settings on Remote
Choose advanced settings
Choose Network in the menu
If a wired connection is used, this setup is not necessarily.

LG Monitor connects automatically to a wired network

IF Wi-fi Connection is used

Wi-Fi Connection -> set Wi-Fi password
Step 3: "Auto Power Off" setting
Press Settings on remote
Choose Advanced -> OK
Choose General
Choose Timers
Auto Power Off set to Off.
Step 4: Accessing Server settings
Hold down Settings on remote, 5-8 sec.
Message box in the upper right will appear
Press 8080 and OK and to access server settings
Step 5: Application Launch Mode
Set to Local
Step 6: Fully Qualified Domain Name
Set to On
Step 7: Enter the OMNIplay app URL in the text box
Enter the full URL address for OMNIplay app for WebOS:
https://www.databeatomni.net/lg
Step 8: Application type
Set to IPK.
Press OK on the remote
IPK is the LG WebOS extension like androids APK
Step 9: Local Application Upgrade
Set to REMOTE
Press OK on remote and confirm
After this setting, the system will ask to upgrade/download the application from the server.
Step 10: Upgrade complete
Press OK in the dialog box and reboot the device.
The system will download/upgrade the application and autostart OMNIplay from now on.
Step 11: License Key
Enter License Key (License # / PlayerID. Example: NOABCD0001A)
Select Enter to submit license key. The device will retrieve settings and configuration now. It will start playing content if a channel is selected and the channel has content to play.
Select the OMNIplay app in the home menu if the app did not launch automatically.
Press [0] to manually insert or edit the license key when app is running.
License Key must be correct. Check DatabeatOMNI, with your reseller or PO/order.
Step 12: Verify the last steps before completion
For the device to operate as expected the settings must be correct.
The device automatically starts the Databeat OMNIplay app. (Reboot and verify)
The device has the correct configuration and license key. (Press [1] or [6] to check info)
Network setup is correct and Energy Save / Auto Power Off settings are disabled.
Content is downloaded and playing. (Press [4] to select channel if necessary)
If shipping the device ensure that both device and packaging are labeled with info.
The OMNIplay app and license key are configured now. Your LG device is ready!

Troubleshooting and FAQ:
If you have any issues, want to learn more, or need custom settings on the device you will find some useful information below. Contact Databeat Support if you need further assistance.
Advanced settings like Wake On LAN, OSD-portrait mode, factory reset etc. are available in the Advanced Signage settings menu, and not the default menu.

To access Advenced settings hold Settings for 5-8 sec until the message box in the upper right will appear. Quickly press 0000 and OK to access. Changing "Power on Status" from LST(Last status) to PWR(Power On) may be useful in some cases.
If no content is displayed, please follow the instructions and information on screen.
Press [3]
on the remote control for mediaplan and status. Read more on how to troubleshoot this issue
here
.
Check OMNIplayer configuration and information with the remote control.
Press [0] to change license key
Press [1] to see general info
Press [3] to see the media plan
Press [4] to select channel and content
Press [6] to see technical and player info